Winter Fairy And Unicorn
Figurine 
F208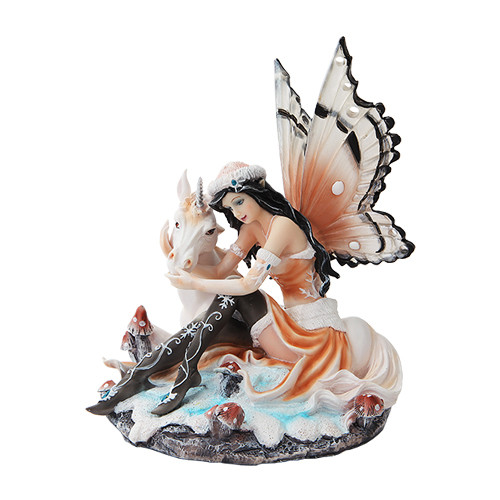 This Fairy and unicorn figurine is a stunning example of a pair of friends in a beautiful winter scene that will add to any décor!

A fairy sits in the snow, wearing a dress of pale orange and cream. Her wings match and are accented in black. 
A pair of thigh-high stockings is accented with swirls and snowflakes, and a cap sits upon her ebony hair.
She strokes the face of her unicorn friend, who has a mane and tail tinted with pale orange.
Mushrooms grow in snow around the magical friends, completing the look!



Specs:  Winter Fairy And Unicorn
Figurine 
Hand Painted Poly-Resin
Size: 6" x 5 1/2" x 7 1/2"      
Price:  $35.99