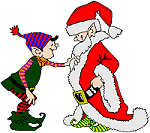 Human like Fantasy Creatures
Elves are very beautiful youthful looking men and women with great magical powers. They live underground or in caves in the forest. These are almost always near a well or spring. Elfs live a very long time and some are considered to be immortal.
Christmas elves are probably the best known of all the North Pole elves or the most recognized of all the pixies fairies elves unless maybe the Keebler elves with their cookies are seen more often.
---
---
Leprechauns are Irish mythical creatures that seem to be found only in Irish folklore. They are described as male faerie that appear as tiny, wizen-faced old men that inhabit the isle of Ireland. There are many leprechaun legends and leprechaun stories that come from the early 19th century.

---
Fantasy Creatures Less Human like

Another group, less human in appearance, would include dragons, mermaids, unicorns, Pegasus and many others.
This site contains a great deal of information about most all mythological creatures including Pixies Fairies Elves. See the following pages for an in depth discussion of some of the better known mythical creatures.
---
Dragons, in early cultures, when they appear, seem to be created from parts of various creatures. Most images have eagle's feet and wings, lion's front paws, head of a snake, scales like a fish, giant horns and a alligator body and tail, which sometimes extended the whole length of the creature.

---
Mermaids are legendary creatures that live in the sea and have the upper body and torso of a beautiful woman and the lower body of a fish. Mermaids are thought to be enchantresses who are capable of wooing men to their deaths through the sound of their songs.The term "Sea Sirens" or "Sirens mythological creatures" is sometimes used instead of mermaids. This occurs often when used with sirens in Greek mythology. Are Mermaids Real?????

---
Are Unicorns Real - The unicorn is a legendary creature that has been described since antiquity as a beast with a single large, pointed, spiraling horn projecting from its forehead. The unicorn was depicted in ancient seals of the Indus Valley Civilization.  The Bible also describes an animal, the re'em, which some versions translate as unicorn.
Here is a picture of a Unicorn and Fairy moving as if they were glued together.
Have A Great Story About This Topic?
Do you have a great story about this? Share it!
What Other Visitors Have Said
Click below to see contributions from other visitors to this page...

Hendrika Schoorl- Cox , Reiki Master, Solitary Pagan.

when I was a child, around 5 or 6, (in Holland, on a house boat) I used to hear music playing and laughter coming from under my bed. I'd lay on my stomach …
Some of the Classic Fairytales are Cinderella, Tinkerbell in Peter Pan, Alice In Wonderland, Little Red Riding Hood, Snow White and many more.