Who Wrote Peter Pan?
Who Wrote Peter Pan? - Well, it is a Fairy Tale about a boy that never grew up!  A lot of people have that opinion about a lot of us guys.  Some say that 'The difference between a man and a boy is the price of his toys' .  You might not agree, especially if you are a guy.  That's another discussion for another day.
---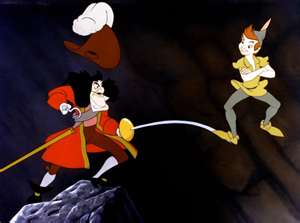 The History of Who Wrote Peter Pan 
About The Author --- A lot of people ask, "Who wrote Peter Pan Story?" Most fairy tales come from old folklore and have been handed down from generation to generation. The first mention of this story was in 1902. This story is a fairy tale because it has a fairy named Tinkerbell as one of the main characters. It was created by Scottish novelist and playwright J. M. Barrie (1860–1937).
"The Little White Bird" - The first mention of Peter by the author was in the earlier book "The Little White Bird" published by J. M. Barrie in 1902.  The story is about an older ex-soldier that befriends a boy named Peter. The middle chapters were later  published as "Peter Pan In Kensington Gardens". Fairies and other fantasy creatures are mentioned in these chapters.

In 1904, the story as we know it, opened as a very successful stage play named "The Boy Who Would Not Grow Up". The play was later adapted to a novel and published in 1911 titled "Peter and Wendy". The title of the novel was later changed when Pan was added. Still later Wendy was taken out of the title.

If this answers the question, "Who Wrote Peter Pan"  Then here is the story behind Peter Pan. This the fairy tale about a boy that never grows up, EVER.  In the story.  he meets Wendy and her parents, a fairy named Tinkerbell, an Alligator and a man with a hook for a hand, named 'Captain Hook'.  He lives in 'Never Never Land' and has a gang called 'The Lost Boys'
More About Peter Pan Characters

 Later, the children feel homesick and wish to go home. Wendy invites Peter and the Lost Boys to come with them so they can be adopted. The Lost Boys are eager to do so, but Peter refuses because he does not wish to grow up. Wendy and her brothers and the Lost Boys are captured by the pirates, but rescued by Peter, who forces Captain Hook to walk the plank and be eaten by the crocodile who once ate his hand. Wendy and the boys return to the Darling home, where Mrs. Darling meets Peter for the first time and offers to adopt him, but he refuses for the same reason that he refused to go back with Wendy and the boys - he has no intention of growing up. Peter asks Wendy to return to Neverland with him, and Mrs. Darling agrees to allow Wendy to go back once a year to help Peter with his spring cleaning.
Read the book to get the complete story.

Peter In The Movies
In 1924 Paramount Pictures released a silent adventure movie adapted from the play "Peter Pan" by J.M. Barrie.
The movie is about Peter, a magical boy that can fly and refuses to grow up. He convinces the Darling children John, Michael and Wendy to come with him to  Neverland . There they meet Captain Hook and his crew. This is just the start of the adventure. Read the book to find out what happens..
Do you like the Story or Tinkerbell or Wendy or Captain Hook?
Tell Us! Send Pictures, write stories, ask questions, let us know what you think!
What Other Visitors Have Said
Click below to see contributions from other visitors to this page...


What about Captain Hook In Peter Pan Story

Not a story, but a comment on Captain Hook. I think he is cute with that sexy mustache.