Christmas Elves and Santas Elves
Christmas elves or Santa's elves, those magical creatures clad in red or green (Christmas colors), live and work in the North Pole. They are Santa's little helpers, making toys in Santa's workshop.
Also included in their job description is taking care of Santa's reindeer, maintaining the sleigh, sorting through Santa's letters from the children and making sure that those children are asleep before Santa delivers presents on Christmas Eve. These are the elves that help Santa that we know today...but it wasn't always so! (See More Info about Elves)

History Of Christmas Elves
Elves, in general, were known throughout Northern Europe through storytelling, as were other magical creatures such as fairies and pixies. However, these elves were introduced during the 19th century.
In 1850, the Christmas issue of "Godey's Lady's Book" featured a picture of a modern Christmas tree on its cover. Widely circulated, Godey became very influential in the birth of Christmas tradition. Again, in 1873, its Christmas issue featured a front cover illustration showing Santa amid toys and Santas Elves with the caption, "Here we have an idea of the preparations that are made to supply the young folks with toys at Christmas time." Thus, santas elves became a part of the Santa story.
European folklore cast this little elf as a crafty, mischievous prankster who was especially vexing during the pre-Christmas period.
The German word, "Albtraum" means "nightmare" and also translates to "elf dream". It was believed that by sitting on a dreamer's head, an elf would cause a nightmare.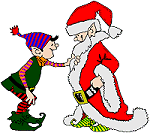 Elves were thought responsible for everything from making milk sour to running off with the evening meal! The people of Scandanavia believed that if they left out a bowl of porridge for the elves, it would discourage them from playing tricks.
These elves today serve as a reminder to children to be good (nice), not bad (naughty). (From the Christmas Song: Here Comes Santa Clause")