The Little Mermaid
| | |
| --- | --- |
| The Little Mermaid is a fairy tale by Danish poet and author Hans Christian Andersen. It is the story of a little mermaid that wants to become human like the Prince that she loves. She wants this so much that she is willing to give up everything so that she may be with her prince. | |

| | |
| --- | --- |
| Hans Christian Andersen | |

The title of this Fairytale in Danish is "Den lille havfrue". This translates into "the little Seawoman" literally.
This fairy tale is so popular that there is a statue of a mermaid in Langelinie, Copenhagen, the capital of Denmark. Based on the fairy tale of the same name by Hans Christian Andersen, the small and unimposing statue (with a height of 1.25 metres (4 ft)) is a Copenhagen icon and a major tourist attraction.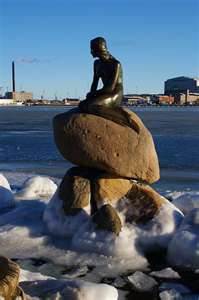 The statue was commissioned in 1909 by Carl Jacobsen, son of the founder of Carlsberg, who had been fascinated by a ballet about the fairytale in Copenhagen's Royal Theatre and asked the primaballerina, Ellen Price, to model for the statue. The sculptor Edvard Eriksen created the bronze statue, which was unveiled on 23 August 1913. The statue's head was modelled after Price, but as the ballerina did not agree to model in the nude, the sculptor's wife, Eline Eriksen, was used for the body.
---
The Little Mermaid Fairytale
The Mermaid
Link to actual copy of manuscript by Hans Christian Andersen
Far out at sea the water is as blue as the bluest cornflower, and as clear as the clearest crystal; but it is very deep, too deep for any cable to fathom, and if many steeples were piled on the top of one another they would not reach from the bed of the sea to the surface of the water. It is down there that the Mermen live.
Now don't imagine that there are only bare white sands at the bottom; oh no! the most wonderful trees and plants grow there, with such flexible stalks and leaves, that at the slightest motion of the water they move just as if they were alive. All the fish, big and little, glide among the branches just as, up here, birds glide through the air. The palace of the Merman King lies in the very deepest part; its walls are of coral and the long pointed windows of the clearest amber, but the roof is made of mussel shells which open and shut with the lapping of the water. This has a lovely effect, for there are gleaming pearls in every shell, any one of which would be the pride of a queen's crown.